MENTORS ACADEMY is awarded as the Best Institute for NDA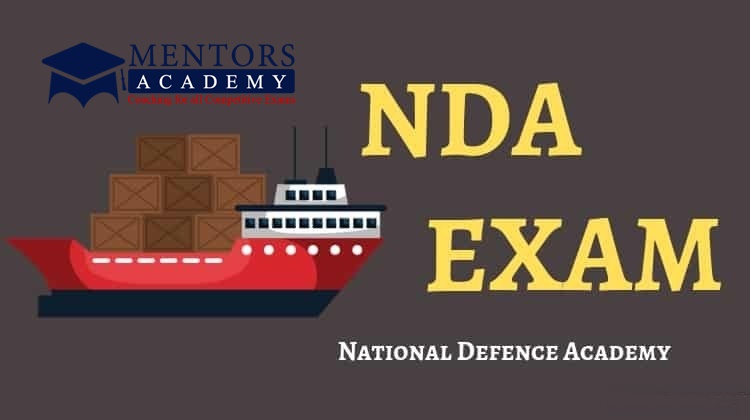 coaching in Chandigarh . Primarily it does not compromise with its quality especially standard of teaching. It is not easy to be the best, as a result MENTORS ACADEMY team is always ready for a challenge.
The MENTORS ACADEMY, a major division of Career Shapers, has been focusing for the past years to nurture a standard quality education. Therefore to the aspirants who want to make a mark in the academic. May be who want to be ones to carry on with the lantern of enlighten for the future generations. Mentors Academy NDA coaching in chandigarh
NDA Coaching in Chandigarh
NDA is the Best way which gives students a great opportunity to join the Army, Navy or Air Forces Immediate after clearing +2 board examinations. Best NDA coaching in Chandigarh. We prepare candidates For NDA which is also known as National defense academy entrance exam for the most highly regarded Indian Defence Services.
As we all know that every year thousands of student appear for NDA written examination and due to its difficulty level only few candidates are able to crack it. Best NDA coaching in Chandigarh
NDA Coaching Chandigarh
National Defense Academy Entrance exam is popular exam which gets filled by 12th Class pass out candidates. Students who want to make their Bright career in Indian Defense forces, and then this NDA examination is the best option and the extraordinary opportunity for them.
Candidates for various Indian Defense forces exams such as Navy, Army and Force gets selected on the merit basis of their performance in NDA Examination. NDA Examination acquires twice a year by the Union Public Service Commission (UPSC). The first NDA examination held in April (NDA I) and the second one in September (NDA II).
Coaching Institute for NDA in Chandigarh
MENTORS ACADEMY INSTITUTE has acclaimed no. 1 position among all the institutes at Chandigarh. The eligibility for NDA Examination is not based on the subjects opted in 10+2 level by the Students. It is open for all the students of SCIENCE, ARTS & COMMERCE Streams
The entrance exams for NDA/ AIR FORCE/ NAVY entrance exam is only for those aspirants who want to serve Indian Army. The career in Defense Services is very interesting. MENTORS ACADEMY provides Best Training for NDA exams by giving well-qualified experienced faculty members, comprehensive study material, weekly mock tests and doubt sessions at regular intervals.
Contact Us Detail
Chandigarh Office Address: SCO- 114, 115 3rd floor Sector 34A, Sector 34, Chandigarh, 160022
Phone: Call: 9915205090, 9780333722, 9464543390
NDA Coaching Institute in Chandigarh
NDA Notification 2019
The notification of NDA AND NA EXAM of 2019 will be on Feb and the examination date will be in April. In this year, Union Public Service Commission (UPSC) carry out ENTRANCE Examination on 23rd April 2019 for admission to the Army, Navy and Air Force wings of the NDA for the 139th Course, and for the 101st Indian Naval Academy Course (INAC) starting from 02nd January 2019.
NDA Vacancy 2019
Break up of vacancies 2019
National Defense Academy:
Sr.no.
Post
No of Vacancy
1
Army
208
2
Navy
55
3
Air Force
72
Total
335
Naval Academy:
Sr. no.
Post
No of Vacancy
1
10+2 Cadet Entry Scheme
55
Total
55
Therefore, Total vacancies are 390.
Generally, vacancies are provisional and subject to change depending upon the availability of training capacity of National Defense Academy and Indian Naval Academy.
NDA II 2019 Exam Dates
The schedule for the NDA II 2019 exam is as follows.
| | |
| --- | --- |
| Activity | Dates |
| Notification Release | Aug 17, 2019 |
| Last Date for registration | Sept 3, 2019 |
| NDA Exam Date | Nov. 19, 2019 |
NDA Exam Centre in chandigarh
The Written examination of NDA (National Defense Academy) conducted across 41 cities on April 2019. The Exam will be held on Paper and Pen Mode. The NDA Exam centers 2019 will be released by Union Public Service Commission (UPSC) along with Notification. The date and time and Address of NDA exam centers will be mentioned on the Admit Card.
NDA Recruitment 2019
The Union Public Service Commission (UPSC) conducts the NDA Entrance Exam. Candidates for various defense forces such as Army, Air Force and Navy gets Selected on the basis of their merit in NDA Examination.
The Union Public Service Commission (UPSC) conducts the National Defense Academy Entrance Exam (NDA) in every year two times. First examination for NDA Recruitment 2019 gets conducted in April (NDA I) and second one in September (NDA II). UPSC Conducts NDA Examination twice a year – The Union Public Service Commission(UPSC).
| | | | |
| --- | --- | --- | --- |
| Paper . | Subject | No. of Questions | Duration |
| I | Mathematics | 300 | 2.5 Hours |
| II | General Ability | 600 | 2.5 Hours |
Paper –II General Ability Test Comprise the following:
Part A English (Maximum Marks-200)
Part B General Knowledge (Maximum marks – 400)
General Knowledge has 6 sections:
| | | |
| --- | --- | --- |
| S.no. | Subject | Marks |
| 1 | Physics | 100 |
| 2 | Chemistry | 60 |
| 3 | General Science | 40 |
| 4 | Social Studies | 80 |
| 5 | Geography | 80 |
| 6 | Current Event | 40 |
Negative Marking: For every incorrect answer, 0.33 marks will be deducted as negative marks in the NDA exam.
Crack NDA in 7 Steps
SSB Interview: After clearing the written exam, candidates have to go through the SSB Interview. The interview process marks are 900 marks.
Complete SSB interview goes on five days.
Day wise SSB interview as following:
The first day of SSB interview is for only psychological tests are conducted. These are conducted during the first day.
Intelligence Test
Picture Perception and Description Test (PPDT)
Filling up of Personal Information Questionnaire (PIQ) forms
Word Association Test (WAT)
Thematic Apperception Test (TAT)
Situation Reaction Test (SRT)
Self Description Test
Group Discussion test(GD)
Military Planning Exercise (MPE)
Lecturettes
Progressive Group Task (PGT)
Intergroup Obstacle race or Snake race
Half Group Task
Command Task
Personal interview for some of the candidates by president
Final Group Task (FGT)
Individual Obstacles
Interview for remaining candidates
On the fifth day conference is conducted and the results are announced by SSB board officials. The following event on fifth day of SSB interview.
Conference
Announcement of recommended candidates
NDA Coaching Center in Mohali
NDA Syllabus 2019. This comprises of Mathematics, General Knowledge and English Language.
| | | |
| --- | --- | --- |
| Mathematics | General Knowledge | English Language |
| Algebra | Physics | Reading Comprehension |
| Matrices & Determinants | Chemistry | Vocabulary |
| Analytical Geometry | General Science | Grammar & Usage |
| Trigonometry | Social Studies | Cohesion |
| Integral Calculus | Geography | |
| Differential Calculus | Current Events | |
| Probability and Statistics. | | |
| Vector Algebra | | |
NDA Exam Preparation in Chandigarh
NDA exam preparation must be done in an efficient manner, with latest exam pattern in mind. Since the syllabus is very vast, it is important to choose the right material for study so that you can easily understand the concepts and practice with a wide variety of questions as well. Apart from self study you can join Mentors Academy for NDA Coaching and Online Test Series for better exam preparation.
NDA Coaching in Chandigarh
MENTORS ACADEMY classroom programs are most comprehensive coaching Program for NDA verticals across India. In every 25 classroom Students 20 got selected for NDA in 2018-19. Mock Tests and Offline Test Series
MENTORS ACADEMY provides Offline Test Series for NDA Exams which are well-researched and closely imitate to NDA exam pattern. Practice papers are prepared keeping in the mind the last year exam pattern and expected much change in the pattern and difficulty level of questions.Eligibility Criteria
Click Here to view NDA Official Notification
These are the important instructions which a candidate must fulfill in order to be eligible for NDA. The parameters are given below:
Citizenship:
Candidate must either be Indian citizen
Citizen of Bhutan
Citizen of Nepal
Age Limit:

Minimum age is 16.5 years and Maximum is 19 years.

Educational Qualification:

The educational qualifications vary according to the post is listed below:
Army wing of National Defense Academy: 12th Class pass of the 10+2 pattern of school education or equivalent examination conducted by a state education board or a university.
Air Force and Naval Wing of National Defense Academy and 10+2 Cadet Entry Scheme At the Indian Naval Academy: 12th Class pass of the 10+2 pattern of school education or equivalent with Physics and Mathematics conducted by a state education board or a university.
Physical Standards:
Candidates must be physically fit according to physical standards for admission to National Defense Academy and Naval Academy Examination
A candidate who has resigned or withdrawn on disciplinary grounds from any of the training academies of Armed Forces is not eligible to apply.
Visual standards
The distance vision (corrected) should be 6/6 in better eye and 6/9 in the worse eye. Myopia should not be more than 2.5 D and hypermetropia not more than 3.5 D including Astigmatism. Ophthalmoscope is used for Internal examination of the eye.
A candidate must have good binocular vision. The color vision standard will be (CP-III) for Army. A candidate is able to recognize red and green colors. Candidates are required to give certificates that neither he nor any member of his family has suffered from congenital night blindness.
Students who have undergone or have the evidence of having undergone Radial Keratotomy, to improve the visual acuitywill be permanently rejected for all the Services. Candidates who have undergone Laser Surgery for correction of the refractive error are also not acceptable to defense services.
Vision standard for naval candidates
Uncorrected without glass 6/6, 6/9
Corrected with glass 6/6, 6/6
Limits of Myopia –0.75
Limits of Hypermetropia +1.5
Binocular Vision III
Limits of colour perception I
Application Fee
Candidates Belonging to General/OBC Category Have To Pay Rs.100. No Fee for SC/ ST Candidates. No Fee for Childrens of Serving / Ex-Junior Commissioned Officers/ Non-Commissioned Officers.
| | | |
| --- | --- | --- |
| Sr. No. | Category | Application Fee |
| 1 | SC/ST | Nill |
| 2 | General and Others | Rs. 100/- |
Candidates can pay examination fee online by using any visa/master debit or credit card issued by any bank/institution
Candidates can pay the examination fee in cash at any branch of state bank of India through the pay- in-slip generated by the online application process
For payment of examination use the internet banking facility of the State Bank of India and SBI Associate banks
Contact Us:
SCO 114, 115 3rd floor Above Catholic Bank Sector 34 A Chandigarh 160022
Contact number: 9915205090, 9780333722, 9464543390
We offer's many Courses in Mentors Academy .